Meet Our Team
Dr. Lynn Fortin
Veterinarian
Dr. Fortin received her Bachelor of Arts degree from Clark University in Massachusetts in 1988 and her doctorate of Veterinary Medicine from Tufts University in 1993.

She practiced in Wisconsin and Connecticut before purchasing the Newington Veterinary Clinic in her hometown of Newington in 2001. Dr. Fortin has a wonderful son Dominique, a dog Buttercup and 3 cats. When Dr. Fortin is not at the clinic, she enjoys yoga, reading, and cooking.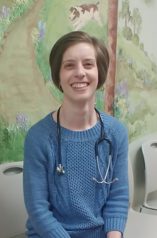 Dr. Lisa DeRosa
Veterinarian
Dr. DeRosa was raised in central Connecticut but headed west as she worked toward her childhood dream of becoming a veterinarian. In 1998, she earned a Bachelor of Arts degree in biology from Carleton College in Northfield, Minnesota and then received her Doctorate of Veterinary Medicine from Purdue University in 2002. After graduating from Purdue, she worked at small animal practices in both central and eastern Connecticut, prior to joining Newington Veterinary Clinic in 2018. Dr. DeRosa is a member of the American Veterinary Medical Association and the Connecticut Veterinary Medical Association. When she's not working, she enjoys rooting for the Red Sox, playing tennis, hiking, gardening and travel.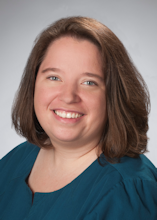 Cheri
Veterinary Receptionist
Cherie, our full-time receptionist joined our clinic in June, 2015. She comes to us with 5 years of experience as a veterinary assistant and another 4 years as a veterinary receptionist. She is a lifelong animal lover with three pets of her own -- two cats named Nestor and Min, and a rescued Terrier mix named Ralphie. Cherie and her husband, Eric, have 3 active young boys who keep her on her toes. When not working or spending time with her family, she can usually be found with her nose in a book.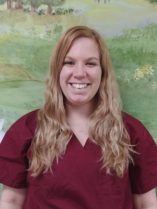 Cory
Veterinary Nurse
Cory, our Veterinary Nurse, is currently enrolled in San Juan College to become a Certified Veterinary Technician. She has three cats, Marshmellow, Tater and Nacho, and a dog named Noodle.
Jillian
Veterinary Assistant
Jillian, our Veterinary Assistant, joined our staff in 2021. She comes to us with over a year of experience as a Vet Assistant. She is a part-time student at Capitol Community College majoring in Health Sciences and plans to further her studies at UConn. In her free time, she enjoys traveling and spending time with family and friends. Jillian is also a foodie who loves exploring new cultures through their food.